Earls Colne occupies part of the site of a former WW2 RAF air base in north Essex located between Coggeshall and Earls Colne. The rest of the former airfield is occupied by the Essex Golf and Country Club and a business park
It has a single part asphalt and part grass 840m runway 06/24, 2 small hangars and a club house with a café and small car park
Website: .
http://www.anglianflightcentres.co.uk/
Radio frequency 122.425
ICAO code EGSR
Spotting / photography
The airfield club house & hangars can be reached by leaving the B1024 by the entrance to the business park & country club complex and by turning right onto the old perimeter track which is now a nicely tarmacked road which runs round the site eventually coming to the hangars.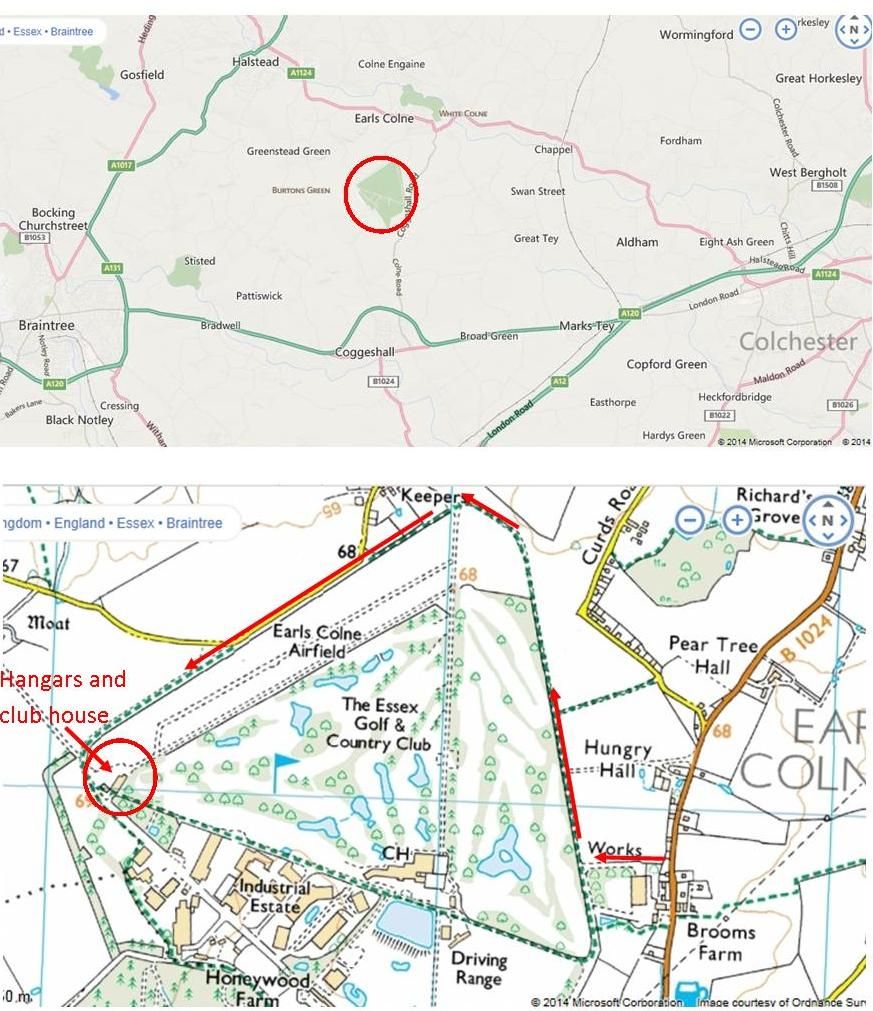 Around the bend by point A there is a low fence and the whole of the hangar and apron area is easily visible as well as the runway, there's also a cabin outside which sells cups of tea and burgers and the like. You can (carefully) walk anywhere along that fence but beware of traffic (particularly HGV) movements especially on weekdays . I've parked along the straight road between points A & B on the far side from the airfield, there are some HGV trailers parked there as well but there's loads of room BUT on the bend there are no parking signs because of aircraft movements , the buildings in the top left of the image are hangars with aircraft which taxi down to the corner and then across the road (I've not yet seen it happen unfortunately) so the gates need to be left clear. At point B there is a largish gap in the hedge ( about 5ft high) which runs along the roadside of the airfield, presumably to reduce distractions which is good for side on shots of aircraft on the runway but depending on the time of day photos may be into sun. there are also points to pull in / park at C & D, I have seen people walk across the grass towards the threshold from D but not sure if that is fully appreciated by the owners , if you're a golfer then holes 12, 13 & 14 run alongside the airfield! golfers then cross the old runway to hole 15 where you are very close to the threshold, people from the golf club/hotel often walk along the old runway up to that point but again I don't know how they view the general public doing so. Aircraft park around the hangar area, right up to the fence so a wide angle lens may be useful at times. The other aircraft parking area is alongside the runway against the golf course fence (see the attached google earth image) they are not as accessible for photos unfortunately unless you are a golfer!
There are about 15 to 20 resident aircraft and helicopters plus the Essex Air Ambulance helicopter.
These were all taken from point A