We arose at the usual disgusting o'clock on Friday 16th September with view to getting to Le Bourget for lunchtime, the objective was to go to see the Dugny facility on the 'open weekend' at the Musee de l'air, needless to say they cancelled but we had booked the ferries & hotel so decided to press on anyway.
We got to Le Bourget about 13.00 ish due to a couple of side trips, one to Calais Marck (5 a/c)and one to Abbeville airfield (can't really call it an airport, 6 a/c).
Friday, 16 September, Paris Le Bourget
Reg/Code Type C/n Airline/Operator/Owner
4O-SEV Bombardier Learjet 45 45-104 Corporate
7Q-ONE Dassault Falcon 900EX 38 Government of Malawi
9H-AWK Airbus ACJ320 214 4199 Comlux Aviation
A9C-BRN Gulfstream Aerospace G555242 Government of Bahrain Ami
CN-AMS Gulfstream Aerospace G555271 Royal Moroccan Air Force
CS-DFG Dassault Falcon 2000EX E044 NetJets Europe
CS-DFU Cessna Citation XLS 560 560-5520 NetJets Europe
CS-DGQ Cessna Citation CJ2 525A525A0200 Masterjet
CS-DHF Cessna Citation Bravo 55550-1025 NetJets Europe
CS-DKI Gulfstream Aerospace G555166 NetJets Europe
CS-DMP Raytheon Aircraft CompanRK-508 NetJets Europe
CS-DMV Hawker Beechcraft Corp HRK-549 NetJets Europe
CS-DRF Raytheon Aircraft Compan258730 NetJets Europe
CS-DSB Dassault Falcon 7X 43 NetJets Europe
CS-DTL Bombardier Learjet 45 45-280 Masterjet
CS-DUE Hawker Beechcraft Corp HHB-11 NetJets Europe
CS-DXP Cessna Citation XLS 560 560-5702 NetJets Europe
CS-TFY Airbus A.320 232 1868 MasterJet
D-ASTS Bombardier Challenger 605378 ACM Air Charter GmbH
D-IZZY Piaggio P-180 Avanti 1034 Unipack
EI-TEN Cessna Citation X 750 750-0227 Airlink Airways
F-GESP Dassault Falcon 2000 119 Dassault Aviation
F-GISH Cessna Mustang 510 510-0182 Saint Hore Fly SARL
F-GOCF Beechcraft Super King AiBB-397 La Baule Aviation
F-GPFD Dassault Falcon 10 100 221 Aero Services Executive
F-GPNJ Dassault Falcon 900EX 50 Aerovision
F-GRCV Dassault Falcon 900DX 609 Dassault Aviation
F-GRET Cessna Mustang 510 510-0141 Wijet
F-GSNA Dassault Falcon 900EX EA145 Dassault Aviation
F-GUFP Raytheon Aircraft CompanBB-1698 NYCO SA
F-GVLC Beechcraft 1900 C-1 UC-168 JDP France Sal
F-GVYC Cessna Citation XLS 560 560-5682 Lyreco SA
F-GXRK Cessna Citation CJ1 525 525-0229 Ixair
F-HANN Pilatus PC-XII 887 Unijet SA
F-HBCA Beechcraft 1900 D UE-188 Chalair Aviation
F-HBSC Cessna Citation CJ1 525 525-0508 SARL Socri Aero
F-HCDD Dassault Falcon 50EX 297 Dassault Aviation
F-HCJP Hawker Beechcraft Corp PRB-228 Wing SAS
F-HDLJ Dassault Falcon 900EX 165 Dassault Aviation
F-HFMB Dassault Falcon 50 185 Ixair
F-HHAM Beechcraft King Air C90BLJ-1361 SAL SA
F-HHSC Cessna Citation CJ1 525 525-0499 So Air SARL
F-WWGZ Dassault Falcon 2000LX 228 Dassault Aviation
G-CFLU Saab 2000 055 Eastern Airways
G-CGEI Cessna Citation Bravo 55550-0951 Stephen William Bond
G-KTIA Hawker Beechcraft Corp HHA-0140 TAG Aviation (UK) Limited
G-LEGC Embraer Legacy 600 14501025 London Executive Aviation
G-MEET Bombardier Learjet 40 45-2054 TAG Aviation (UK) Limited
G-PGRP Embraer Legacy 600 14501102 Gama Aviation
G-SIRA Embraer Legacy 600 14500832 Amsair
HB-JEI Dassault Falcon 900 86 Dasnair SA
HB-JGG Dassault Falcon 2000LX 188 MSC Aviation SA
HB-VWQ Embraer Phenom 100 50000050 Phenom Club
HZ-A2 Airbus ACJ320 214 3164 Alpha Star Aviation
HZ-AFV Gulfstream Aerospace GIV1035 Saudia Special Flight Ser
HZ-MF5 Gulfstream Aerospace G301532 Saudi Ministry of Finance
HZ-XY7 Airbus A.320 214 2165 NAS Air
I-DDVF Dassault Falcon 2000 161 Sirio Fly SpA
I-PARS Bombardier Learjet 40 45-2034 Sirio Fly SpA
LX-JFI Pilatus PC-XII 574 Jetfly Aviation SA
LX-JFN Pilatus PC-XII 855 Jetfly Aviation SA
LX-TAI Pilatus PC-XII 47E 1008 Jetfly Aviation SA
LX-ZAV Bombardier Challenger 605523 Global Jet Luxembourg SA
M-ASRI Bombardier Global Expres9165 YYA Aviation Limited
M-ASRY Bombardier Challenger 3020137 YYA Aviation Limited
M-AUTO Bombardier Learjet 60 60-027 TAG Aviation SA
M-GPIK Dassault Falcon 50EX 289 Galaxias Aviation
M-IGHT Bombardier Learjet 60 60-382 High Wing Aviation Limite
M-JCPO British Aerospace 125 70257004 Saucar Limited
M-JSMN Bombardier Global 5000 9216 Jasmin Aviation Limited
M-JSTA Bombardier Challenger 605639 Jetsteff Aviation Limited
M-RURU Dassault Falcon 900 B 140 Opus Nominees Limited
M-STCO Dassault Falcon 2000EX E110 Shaher Trading Company
N139AL Dassault Falcon 900 35 Corporate
N155AN Gulfstream Aerospace G555029 Nissan North America Inc
N169LL Bombardier Global Expres9397 Lyndon Lea
N170PF Dassault Falcon 900EX 17 Corporate
N189RB Dassault Falcon 20 F 262 Flying Service NV
N18CG Dassault Falcon 900EX 228 Corning Inc
N244S Gulfstream Aerospace G20235 Sedgewick Azure Inc
N318AG Gulfstream Aerospace GV 536 Corporate
N373AB Cessna Citation X 750 750-0243 Salem Aviation
N440QS Gulfstream Aerospace G454025 NetJets
N444HE Boeing B.737 39A/W 23800 Jim Baroni
N5SA Gulfstream Aerospace GV 527 Wekel SA
N6D Bombardier Global Expres9191 XRS Holdings LLC
N767A Boeing B.767 2AXER 33685 ARAMCO
N78SD Bombardier Challenger 605469 Constructora Sambil CA
N898CT Dassault Falcon 2000 60 Nortom Corporation
OE-FZE Cessna Mustang 510 510-0217 Globe Air AG
OE-HMR Dassault Falcon 2000EX E152 Baca Hydra Leasing GmbH
OH-WIA Cessna Citation Sovereig680-0215 Jetflite OY
OK-JNT Embraer Legacy 600 14501087 ABS Jets
OO-FYS Cessna Citation CJ3 525B525B0197 Sky Service NV
OO-SDU Raytheon Aircraft CompanFL-368 Bongrain Benelux SA
OY-RUB Avions de Transport Regi301 Skyways
PH-CIJ Cessna Citation Sovereig680-0185 Cartier Europe BV
PT-WYC Dassault Falcon 2000 59 Grendene SA
S5-ADE Bombardier Challenger 3020236 Elitavia
TC-ARD Bombardier Challenger 605611 Arkasair Havacilik
TR-LFB Hawker Siddeley 125 3B 25130 Avirex SA
TR-LGV Dassault Falcon 50 89 Corporate
TR-LGY Dassault Falcon 50 9 CIP Transports
UR-CCF Dassault Falcon 50 212 CABI Airlines
VP-CCR Bombardier Challenger 605079 Salem Aviation
VP-CSK Boeing B.737NG 8GG/W BBJ34620 Sultan Al-Kabeer
VT-IAH Airbus ACJ319 115X 2837 Reliance Industries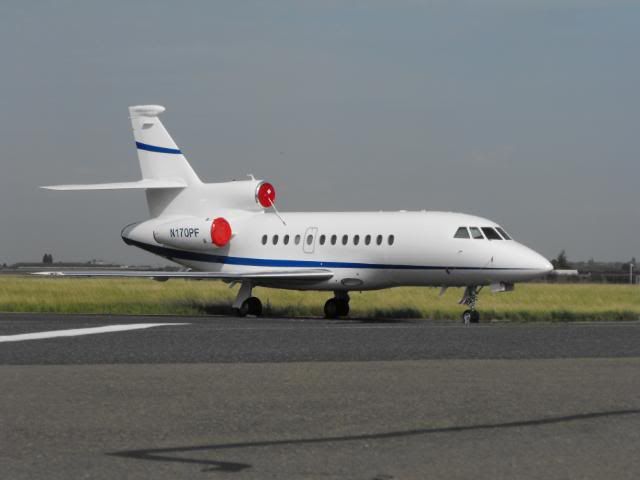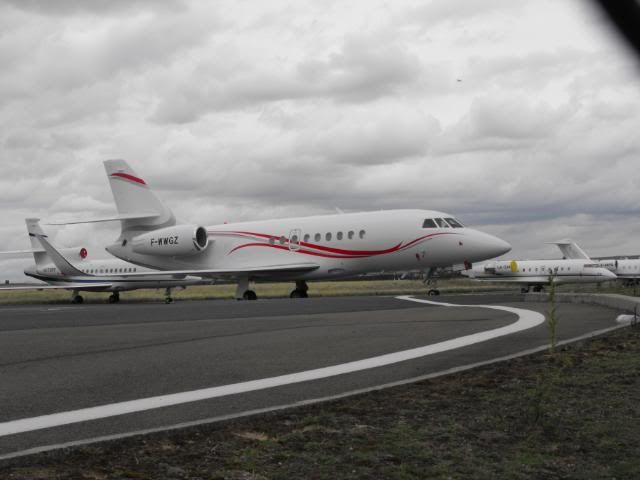 We then sauntered off to CDG to the Hilton (One of our number had 'blagged' a cople of 8th floor rooms at 'normal' hotel prices).
The rooms had a view across the airfield (looking down on Concord & 'the mound') we could see traffic approaching Le Bourget and with the SBS running we could also see & get traffic inbound to Orly !
We stayed up quite late and I can't remember how many we logged but it was hundreds, mainly Air France (naturally).
Next morning it was off to Le Bourget again to the Musee de L'air as 2 of our party of 4 hadn't been before ! ! !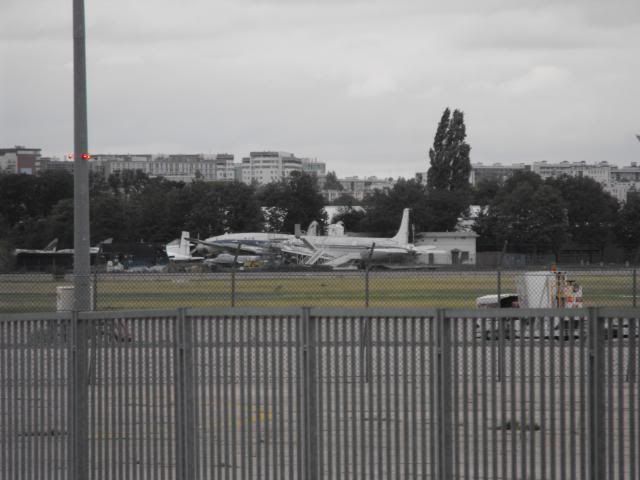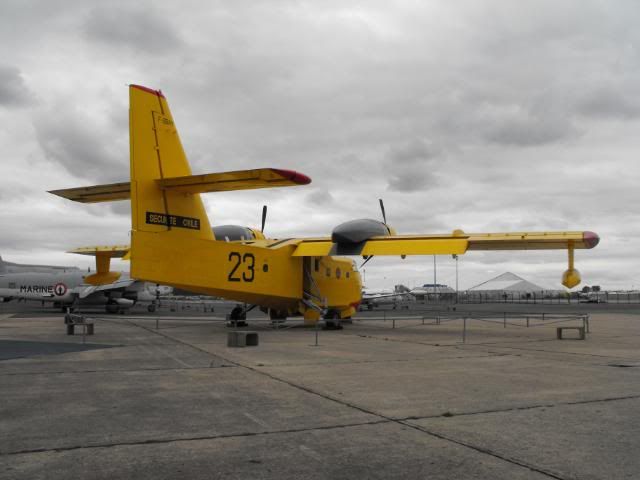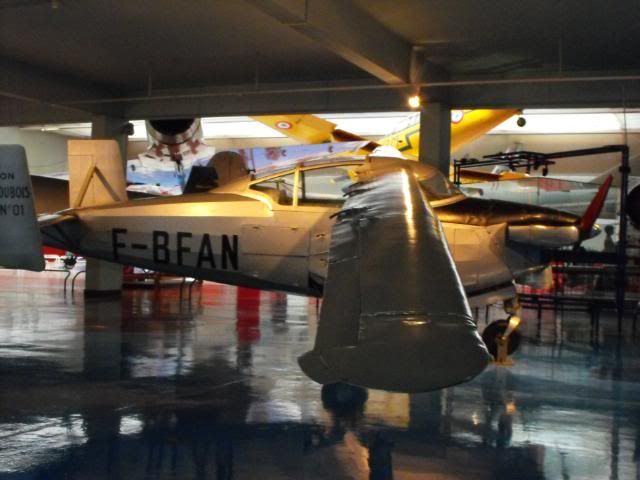 Then another round tour of bizjet central.
Saturday 17th
Reg/Code Type C/n Airline/Operator/Owner
3B-PGF Gulfstream Aerospace GIV1046 Generale Aviation & Finan
5A-DCM Dassault Falcon 50 68 Libyan Airlines
A6-AJC Airbus ACJ318 112 Elite 3985 Al Jaber Aviation
CS-DFD Dassault Falcon 2000 174 NetJets Europe
CS-DHL Cessna Citation Bravo 55550-1092 NetJets Europe
CS-DLD Dassault Falcon 2000EX E109 NetJets Europe
CS-DLH Dassault Falcon 2000EX E149 NetJets Europe
CS-DMZ Hawker Beechcraft Corp HRK-559 NetJets Europe
CS-DNQ Dassault Falcon 2000 115 NetJets Europe
CS-DRJ Raytheon Aircraft Compan258760 NetJets Europe
CS-DRM Raytheon Aircraft Compan258771 NetJets Europe
CS-DXK Cessna Citation XLS 560 560-5633 NetJets Europe
CS-DXZ Cessna Citation XLS 560 560-5796 NetJets Europe
D-CFXJ Cessna Citation CJ3 525B525B0086 FairJets Luftverkehrs AG
D-ILAT Cessna Citation CJ1 525 525-0209 Liebherr-Aerospace Linden
EC-JBH Dassault Falcon 20 200 511 Mayoral Executive Jet
EC-JMS Cessna Citation CJ2 525A525A0216 Jetnova de Aviacion Ejecu
EC-KKK Cessna Citation Encore+ 560-0770 Gestair Executive Jet SA
EC-LBO Cessna Citation II 550 550-0634 Air Taxi & Charter Intern
EC-LDK Cessna Mustang 510 510-0152 Jetnova de Aviacion Ejecu
F-BICR Hurel-Dubois HD-34 4 National Geographic Insti
F-BVPK Aerospatiale SN-601 Corv7 Aero Stock
F-GBPB Beechcraft King Air 90 LJ-98 Transtech Comerce PLC
F-GHOC Beechcraft Super King AiBB-406 Darta Transports Aeriens
F-GJAP Aerospatiale SN-601 Corv31 Airbus France SAS
F-GLND Beechcraft 1900 D UE-196 Twin Jet
F-GMOF Aerospatiale SN-601 Corv12 Aero Stock
F-GSLZ Dassault Falcon 10 100 208 Polygone SA
F-GSNK Dassault Falcon 900 B 115 Dassault Aviation
F-GTOD Dassault Falcon 10 155 Darta Transports Aeriens
F-GTVC Beechcraft 1900 D UE-349 French Ministry of Interi
F-GUFP Raytheon Aircraft CompanBB-1698 NYCO SA
F-HAXA Dassault Falcon 900EX 12 Unijet SA
F-HBSO Avions de Transport Regi066 Atlantique Air Assistance
F-HCDD Dassault Falcon 50EX 297 Dassault Aviation
F-HCIC Cessna Citation CJ3 525B525B0224 Air Ailes Sarl
F-HDCB Dassault Falcon 50 204 Darta Transports Aeriens
G-JMCL Boeing B.737 322F 23951 Atlantic Airlines
G-LEGC Embraer Legacy 600 14501025 London Executive Aviation
G-OGSK Embraer Legacy 600 14501074 TAG Aviation (UK) Limited
G-PEER Cessna Citation CJ2+ 525525A0360 Air Charter Scotland
G-PGRP Embraer Legacy 600 14501102 Gama Aviation
G-SIRA Embraer Legacy 600 14500832 Amsair
I-UUNY Cessna Citation I 500 500-0358 Unifly Servizi Aerei SRL
LX-DEC Cessna Citation Sovereig680-0253 J C Decaux
LX-GEX Bombardier Global Expres9013 Global Jet Luxembourg SA
LX-JFA SOCATA TBM 700 63 Jetfly Aviation SA
LX-JFK Pilatus PC-XII 683 Jetfly Aviation SA
LX-SAM Dassault Falcon 2000 26 Global Jet Luxembourg SA
M-EAGL Dassault Falcon 900EX 237 Faycroft Finance Corporat
M-GPIK Dassault Falcon 50EX 289 Galaxias Aviation
M-YTOY Embraer Phenom 100 50000112 Pool Aviation
N301AJ Cessna Mustang 510 510-0233 Aston Jet
N456SM Cessna Citation Sovereig680-0038 On Time Aviation Corporat
N737CC Boeing B.737NG 74Q/W BBJ29135 Mid East Jet
N750NS Cessna Citation X 750 750-0172 Flying Service NV
N920DS Boeing B.737NG 75V/W BBJ28579 Turnberry Investment Comp
OE-IEX Dassault Falcon 900EX 111 International Jet Managem
OO-SLM Cessna Citation XLS 560 560-5781 Abelag Aviation SA
PH-RID Cessna Citation Sovereig680-0212 Cartier Europe BV
S5-BAR Cessna Citation CJ2+ 525525A0423 Linxair
SE-RGZ Cessna Citation Encore 5560-0607 PS Aviation
SX-IDA Gulfstream Aerospace G20149 Gain Jet Aviation SA
TJ-AGH CASA CN-212 Aviocar 200 159 Lutexfo ( pic below)
TR-AFJ Dassault Falcon 900 46 Afrijet Business Service
VP-CSK Boeing B.737NG 8GG/W BBJ34620 Sultan Al-Kabeer
YK-ASA Dassault Falcon 20 F 328 Government of Syria
YR-DIP Bombardier Challenger 605475 Eurojet Romania
Around 16.00 we returned to the hotel for a bit more spotting before an evening meal, more spotting and eventually bed.
Next morning off and out about 10.00 to La Ferte Alais, same 2 hadn't been here either ! I must admit it had been a long while for me.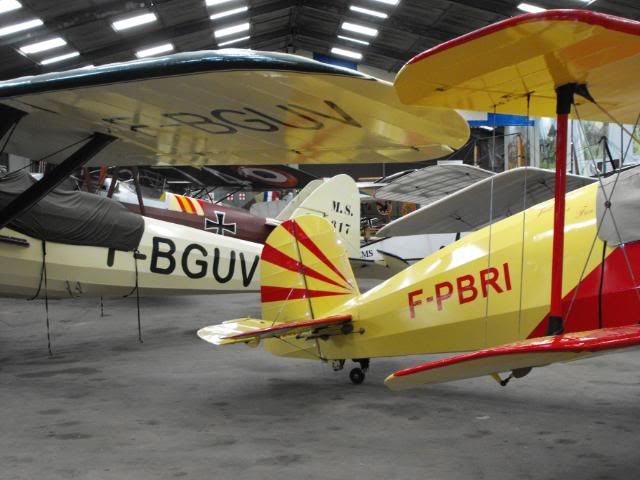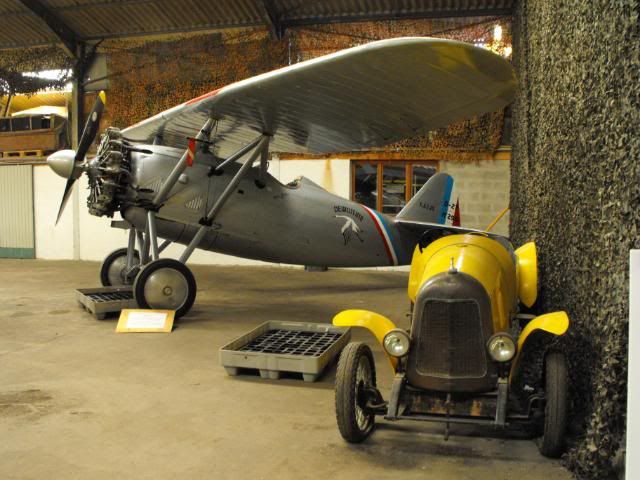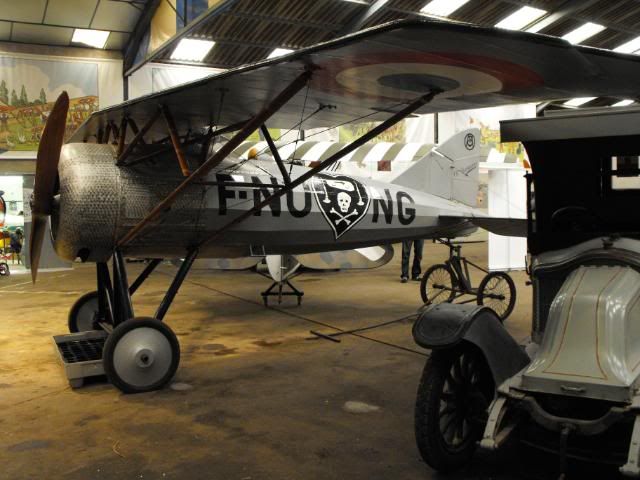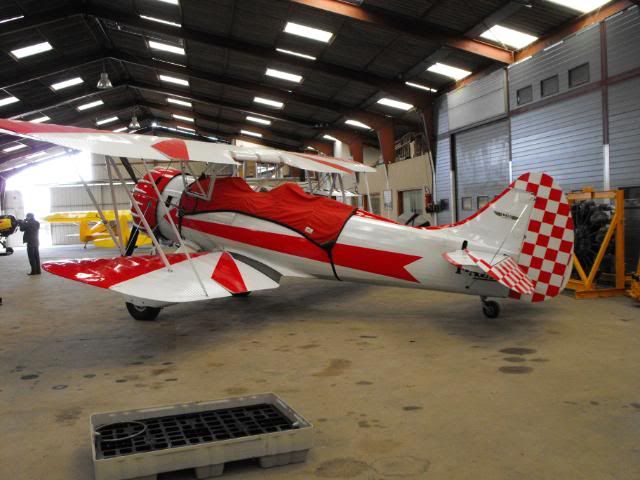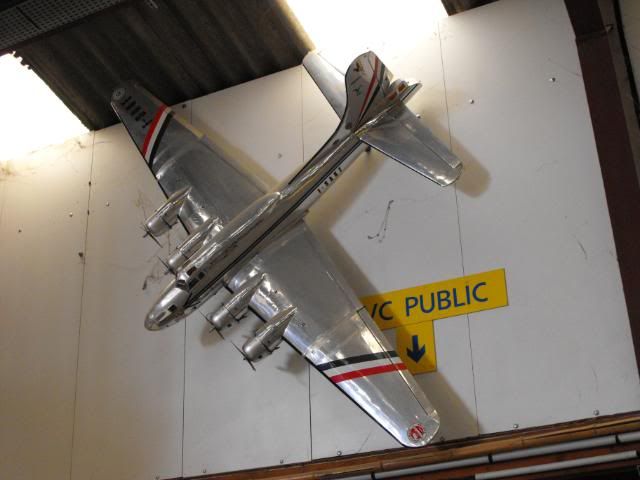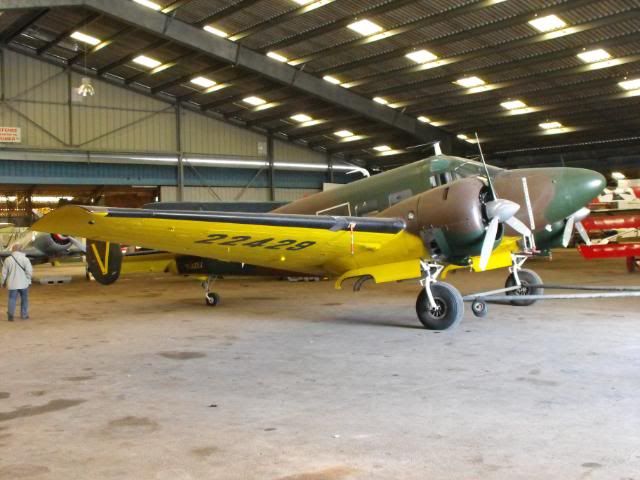 Then it was across country to Toussus le Noble........ sorry just the 1 piccy, 2 of the others were taking pics ,so I didn't worry.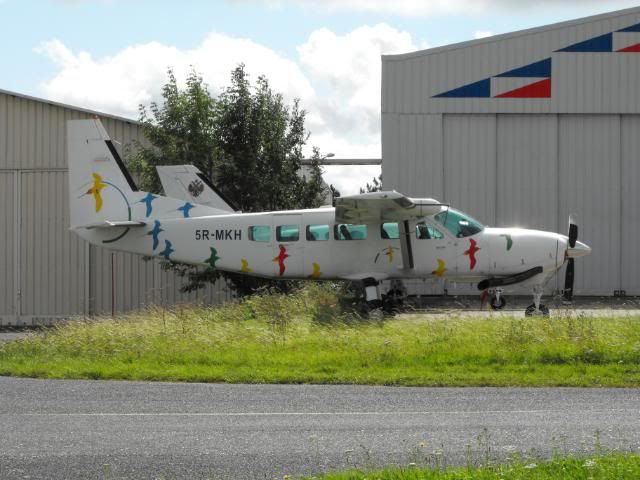 Sunday, 18 September, Toussus-Le-Noble
Reg/Code Type C/n Airline/Operator/Owner
5R-MKH Cessna 208 208-00258 Air Hotel
CN-TMC Cessna 421 C Golden Eagl421C0896 Private
D-EEVE Reims/Cessna F172 M 1227 Private
F-BLSB Morane-Saulnier Rallye M388 Private
F-BMRH Cessna 210 E Centurion 210-58625 Private
F-BNBT Morane-Saulnier Rallye M10557 Private
F-BNFQ Piper PA-28 140 Cherokee28-20635 Private
F-BNOB Mooney M.20E Super 21 960 Private
F-BNOZ C.E.A. DR.250 160 Capita28 Private
F-BOGV Reims/Cessna F150 G 0178 Private
F-BOPH SA.N. Jodel D.140C Mous191 Private
F-BRAU Beechcraft Bonanza V35 D-8381 Private
F-BRBN Reims/Cessna F150 J 0520 Private
F-BRUA Beechcraft Bonanza P35 D-7241 Private
F-BRUC Beechcraft Baron B55 TC-1298 Private
F-BRUH Beechcraft Bonanza E33 CD-1230 Private
F-BRUK Piper PA-30 160 Twin Com30-1990 Private
F-BRUM Cessna T210 J Turbo-SystT210-0395 Private
F-BSMH SOCATA Rallye MS.880B Cl1806 Private
F-BTLD Wassmer Atlantic WA.54 52 Private
F-BTLU Cerva CE.43 Guepard 436 Private
F-BTUZ Reims/Cessna F172 L 0903 Private
F-BULO SOCATA Rallye MS.880 1002297 Private
F-BVBK Reims/Cessna F150 L 1065 Private
F-BVBV Reims/Cessna F150 L 1104 Private
F-BVIB Reims/Cessna FRA150 L Ae0235 Private
F-BXMV SOCATA Rallye MS.892E 1512500 Private
F-BXYJ SOCATA Rallye MS.893E 1812570 Private
F-BXZF Reims/Cessna F172 M 1268 Private
F-GAQY Reims/Cessna F177RG Card0144 Private
F-GASX Reims/Cessna F172 N 1574 Private
F-GBGF Cessna 210 L Centurion 210-59607 Private
F-GBTP Piper PA-34 200 Seneca 34-7250286 Private
F-GCLJ Beechcraft Duchess 76 ME-347 Private
F-GCQF Reims/Cessna F172 M 0947 Private
F-GCTK Cessna 172RG Cutlass RG 172RG0566 Private
F-GDNM SOCATA TB20 Trinidad 435 Private
F-GENB SOCATA TB20 Trinidad 460 Private
F-GEPO Beechcraft Baron 58 TH-112 Private
F-GEVE SOCATA TB10 Tobago 564 Private
F-GFCU Cessna 172 N 17269612 Private
F-GGCV Cessna 172RG Cutlass RG 172RG1111 Private
F-GHBS Mooney M.20F Executive 670142 Private
F-GHNY Cessna 152 15284287 Private
F-GHSB Piper PA-38 112 Tomahawk38-79A0760 Private
F-GHTC Piper PA-28 161 Cadet 2841011 Private
F-GIRD Beechcraft Duchess 76 ME-387 Private
F-GIYP Robinson R22 Beta 1399 Private
F-GJAD Beechcraft King Air E90 LW-3 Ste Grenobloise dElectron
F-GJLF Mooney M.20M TLS 27-0066 Private
F-GKBV Partenavia P.68 B Victor13 Private
F-GKUG SOCATA TB9 Tampico Club 1148 Private
F-GKVO SOCATA TB20 Trinidad 1330 Private
F-GLJL Beechcraft Baron B55 TC-1718 Private
F-GNJB Diamond Aircraft Katana 20076 Private
F-GNPV Piper PA-32R 301T Turbo 32R-8329012Private
F-GNZC Cessna R182 Skylane RG R18201199 Private
F-GOBM Reims/Cessna F150 G 0215 Private
F-GPUC Cessna 152 15285282 Private
F-GSZN SOCATA TB20 Trinidad 2037 Private
F-GUDI Robinson R44 Raven II 11483 Private
F-GUXR Robin DR.400 180 Regent 2498 Private
F-GVBV Cessna 172 S 172S10830 Private
F-GXCF Aquila AT-01 A-210 AT01-127 Private
F-GXRP Robinson R44 Raven II 11711 Magnum Aviation
F-HAAT Aquila AT-01 A-210 AT01-130 Private
F-HAEC Cessna 172 S 172S10041 Private
F-HAQG SOCATA TB20 Trinidad 534 Private
F-HARV Robin DR.400 140B Dauphi2625 Private
F-HBFG Cessna 182 T 18281792 Private
F-HBME Cirrus Design SR22 2962 Private
F-HBPB Cessna 182 T 18281951 Private
F-HCLA Cessna 182 T 18282201 Private
F-HGTL Cirrus Design SR20 1646 Aero Touring Club de Fran
F-PRRM Amateur Built Graveroux 01 Private
G-ASJL Beechcraft Bonanza H35 D-5132 Private
G-BBLU Piper PA-34 200 Seneca 34-7350271 Private
G-DLAL Beechcraft King Air E90 LW-187 Aerodynamics Ltd
G-LIVY Beechcraft Super King AiBB-209 Dragonfly Aviation Servic
HB-POW Piper PA-28 181 Archer 28-90158 Private
I-ECPM Piper PA-46-500TP Malibu4697108 Elicompany Sri
N118PG Cirrus Design SR22 2905 Private
N1267J Columbia Aircraft 350 LC42509 Private
N205AB SIAI-Marchetti S.205 18/211 Private
N2132K Piper PA-28R T-201T Turb28R-7931026Private
N22ZF Cirrus Design SR22 1902 Private
N2717Y Robinson R44 Raven II 12121 Private
N272G Piper PA-23 Aztec 250D 27-4189 Private
N301JP Cirrus Design SR22 2240 Private
N310ZZ Cessna 310 P 310P-0229 Private
N372K Cessna 310 R 310R-0920 Private
N394SR Cirrus Design SR22 2709 Private
N5020A Cessna T182 T Turbo SkylT18208097 Private
N51YD Beechcraft Bonanza F33A CE-867 Private
N601TF Mooney M20R Ovation 29-0204 Private
N6030B Cirrus Design SR22 0606 Private
N6030S Cessna 172 S 172S10186 Private
N60554 Cessna 182 T 18281847 Private
N6193R Cessna 182 T 18282061 Private
N61987 Cessna T182 T Turbo SkylT18208900 Private
N6227Z Mooney M.20J Model 201 24-3187 Private
N6496M Cessna T206 H StationairT20608479 Private
N747FC Cirrus Design SR20 1987 Private
N765SL Diamond Aircraft Diamond40.490 Private
N77GJ Mooney M.20R Ovation 29-0356 Private
N8203X Piper PA-34 220T Seneca 34-8333029 Private
N825FG Piper PA-34 200 Seneca 34-7350303 Private
N866LP Piper PA-46 350P Malibu 4636130 Private
N882SR Cirrus Design SR22 2384 Private
N8EY Cessna P210 R PressurizeP21000850 Private
N96RA Piper PA-39 Twin Comanch39-86 Private
We had a meal in the aeroclub cafe (there was a barby going on in one of the hangars so he was short on customers
)
Then about 15.00 it was off to join the traffic jam on Peripherique, then mad dash for Calais & the ferry.
(Mike, no I didn't type the lists I 'purloined' them from an email, [thanks Dean]
)