Following on from my slide scans from Gatwick in the early '70s here are a few Heathrow ones from '72 & '73. Once again apologies for the quality , they haven't aged very well ( a bit like me!) I've fiddled around with them to try to improve them but some are almost beyond salvage (others were totally).
I've tried to be slightly methodical but starting at terminal one and moving clockwise as far as possible but some of the backgrounds I just don't recognize at all now so any corrections or additional comments will all help to illustrate the changes over the years , here goes and apologies if any of my info re the backgrounds IS wrong……….
Terminal 1 in 1972 this used to be the first view of any aircraft as you entered the Queen's Building terrace, lots of BEA Tridents (mk 1,2 & 3) the first one looks like 'RPI which I think crashed at Staines there's also a South African 747 in the background, at one time they used Terminal 1 as well. on the opposite side of the pier it looks like some vanguard tails and a BAC111 (they didnt wear full BEA livery for a while as they were usedon internal German routes or something like that , there was an odd reason, anyway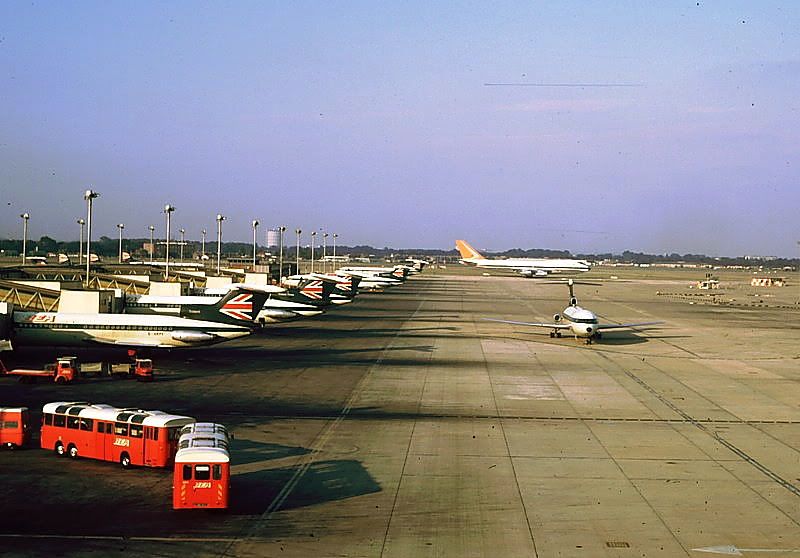 Swinging round a bit and an Olympic 707 with the then new large BEA hangar which was built initially for the Tristars (is that now owned by Virgin?) and to their right the old BEA hangars which were demolished several years ago now, in the '70s there would usually be a Trident or three parked outside and some times a Vanguard (I think all the Viscounts had gone by then)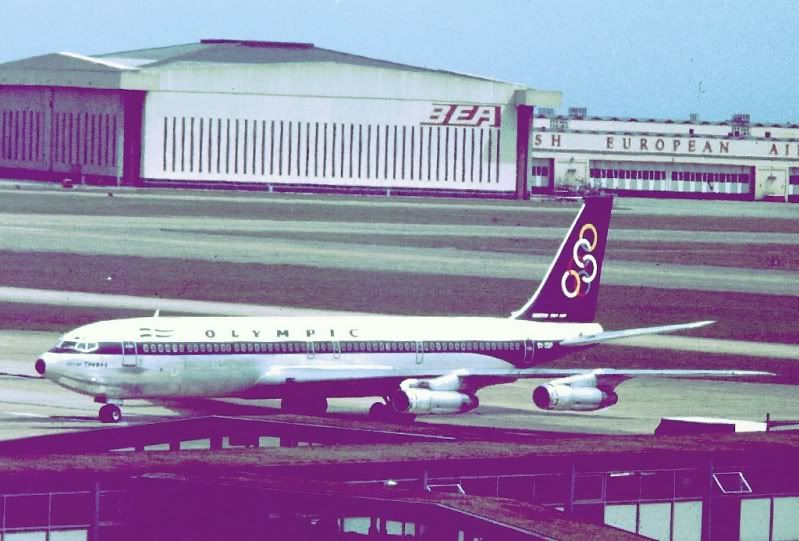 The most easterly of the terminal two piers taken from the viewing area which was built larger than the adjoining walkways to enhance viewing opportunities (note the PAYG telescope) with a café and indoor sitting area if the weather was poor, they even used to have commentaries saying what would be the next aircraft to land around '70 & 72 – how friendly they were towards spotters then. The old BEA hangars are also visible in the background. There's a couple of 737-200s (Lufthansa & Air Algerie) which were the only 737 version around then , and still quite new plus a pair of DC.9s (Austrian & Swissair) –no strectched versions in those days and there's an IL.18 on the far side of the pier, not sure who's it is but it might be Yugoslavian – any advice welcome. Last but not least , does anybody own up to being the two spotters in the photo – are they members on here?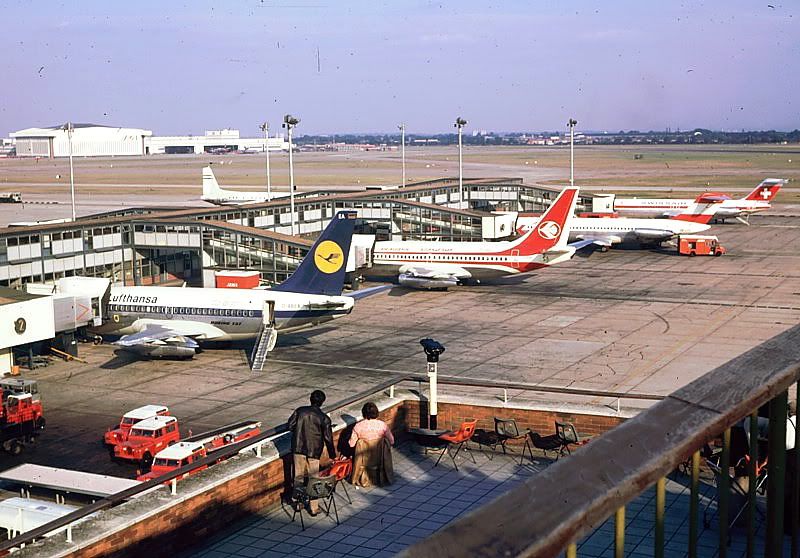 Another view from the same area slightly more southern aspect, the south side was so open in those days. There's a TAP 727 and Air Inter Caravelle in the shot, Caravelles lasted a few more years after this was taken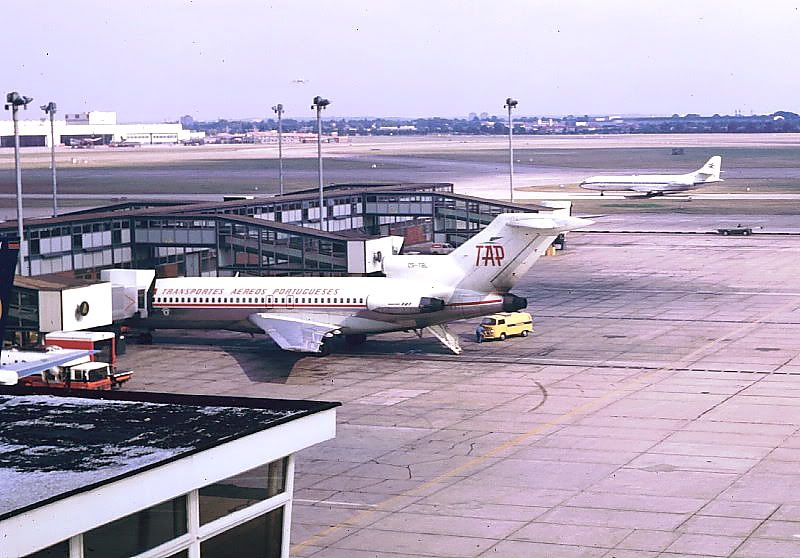 Same day, same time-ish, panning round a bit, The TAP 727 is still there and a Swissair DC.8 (corrected - Cv.990 Coronado) has joined it and a THY 707 is taxiing past while the obligatory Trident takes off on 10 right (note 10 in those days)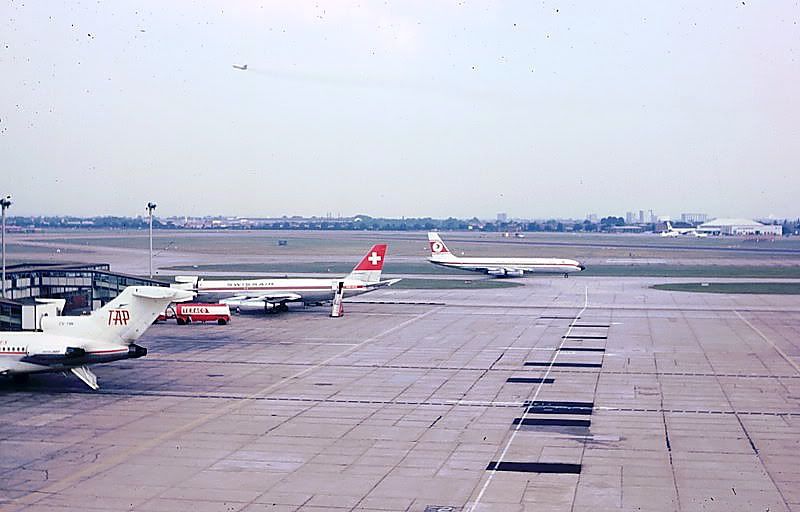 Looking south from the same viewing area (that was the prime spotting location) a Finnair Caravelle with a Tu 134 (looks like OK Jet, Czechoslovakian) and a Pan Am 727 passing by, they used to run feeder flights from Europe to Heathrow. In the distance is a hangar that was used by Pan Am for a while and the Hunting business Jet hangar, with a couple of biz jets outside, that is a bit east of where terminal 4 now stands, looking on google earth I think that hangar might still be there but now outside the airport perimiter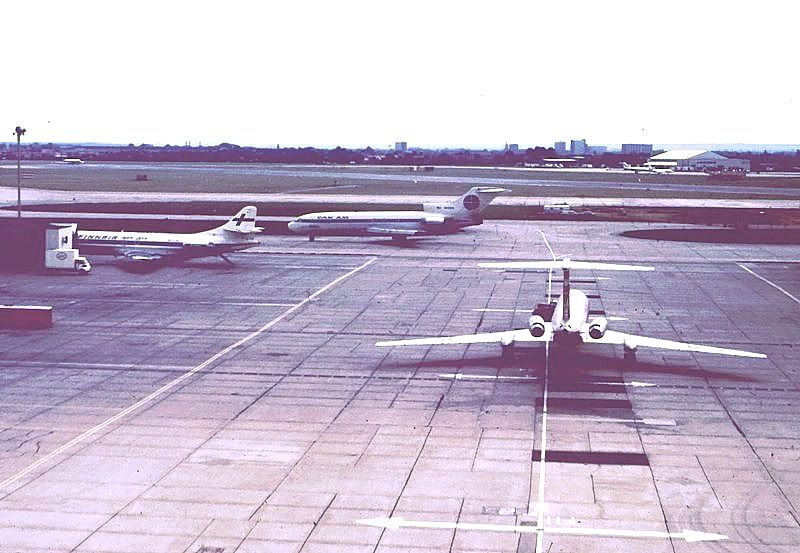 Same angle and a JAL 747 in '73. they had recently started operating them instead of DC8s, In the background the hangars previously referred to are visible – cr*p quality but shows the hangars a bit better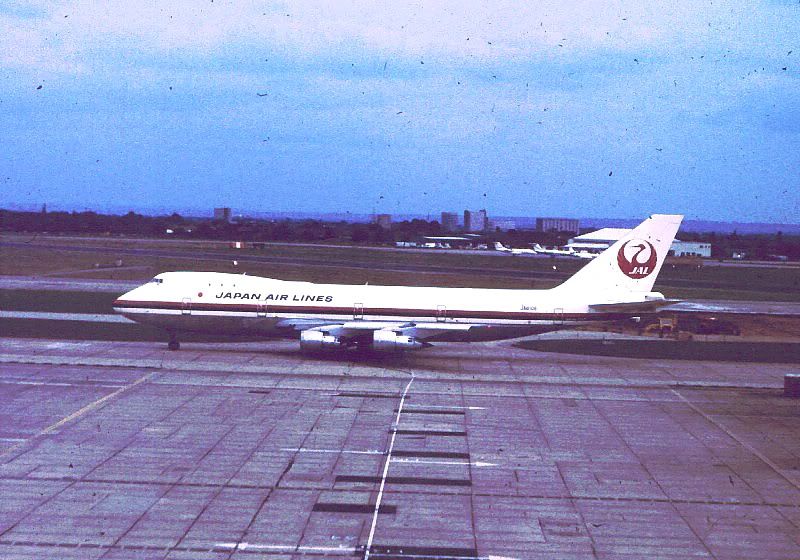 Another 747 operator in '73 was National Airlines who did a daily flight to florida – only had 2 747 s from memory so soon saw their fleet, they were taken over by Pan Am a few years later
Delta operated 747s into LHR in '73, previously they used DC.8s. The background looks quite rural, it's far from that now as Terminal 4 now occupies that area!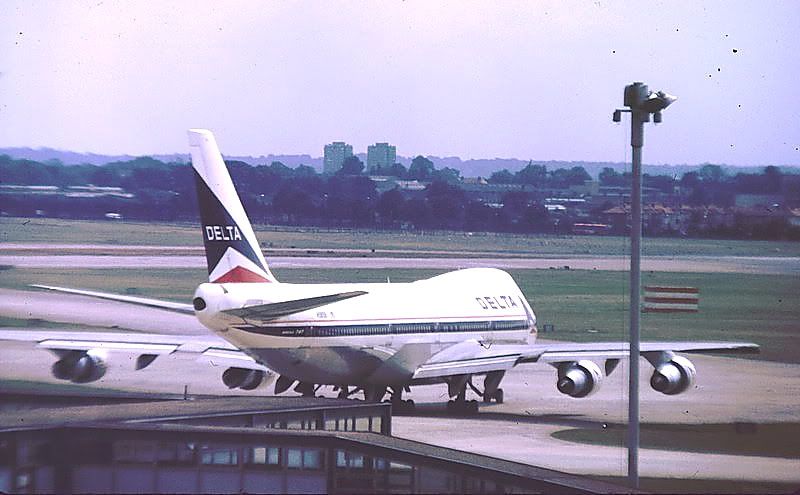 THY were just starting DC.10 operations and the following year they lost a DC.10 (TC-JAV) at Paris, zooming in this looks like JAU but it isn't clear. I'm not sure what is in the background but I think it's the area between T4 and the VIP terminal, in fact that may be the VIP terminal to the right
Panning a bit further west and an Alitalia DC.8, Dc.8s were quite popular on inter-european routes in those days this must have been a similar area to the previous photo but cant work it out exactly, looks like a couple of fuel tanks and those may be some of the old cargo sheds on the right where the newer larger cargo area now stands. Also it looks as though it might be the old runway intersection because at that time Heathrow had a single cross runway for times of high cross winds (can't remember the heading but would have been approx 04/22) . Ther's also the top of a Malev (recently demised) Il.18, the soviet block airlines were still using these as well as Tu 134s in those days - what nostalgia!
Hope you like them and the reminiscing of Heathrow as it was 40 years ago